Enjoy the Christmas your business deserves...
In what has been the most turbulent year in living memory, the least you deserve is a great festive period. But Christmas this year will be a little different of course.
The High Street might not be as busy as previous years, but an increased demand in online purchasing this year brings further opportunities for businesses as consumers continue to shop online. Indeed, online is expected to account for a quarter of all retail sales this year.
Locality is also key, with research showing that 28% of consumers have shopped more with local businesses since the outbreak. This trend is expected have a long-term legacy, providing a boost to smaller independent retailers.
Introducing our 2020 festive packages...
To ensure you make the most of these new opportunities, we've put together a range of innovative opportunities that will attract, engage and delight consumers throughout the peak sales period covering Black Friday, Cyber Monday, Small Business Saturday and of course Christmas. These include:
A special retail package to drive traffic to your e-commerce site.
Daily '12 Days of Christmas' Facebook competitions.
Engaging Christmas listicles appearing across our news sites.
Packages to promote your Black Friday and Cyber Monday deals.
Interactive advent stores and Christmas trail maps.

...and many more bespoke seasonal opportunities.
Our 2020 festive packages include something for every business and budget, with prices starting from just £400, and they're ready to be booked right now.
For more information on how to engage local audience this Christmas, fill in our quick form and one of our team members will be in touch.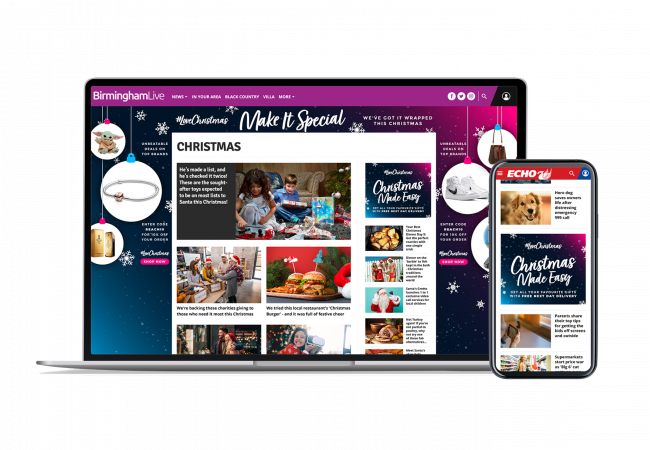 Why work with us this Christmas?
We have a long and proven history of working with retailers and those in hospitality and beauty and care, plus the public sector, to achieve their seasonal goals at Christmas.
Our clients benefit from the latest in marketing strategies, giving them the highest possible opportunity to attract new clients through digital display, content marketing and social media.
Here's why you should consider working with us this Christmas:
| EXPERIENCE
We have a proven history of working on seasonal campaigns.
| INFLUENCE
We publish the most popular and trusted newsbrands.
| AUDIENCE
We reach more than 42m people in the UK every month.
| SOLUTIONS
We have the products to connect you with our audience.
Sources: Mintel | The impact of Covid-19 on retail | UK June 2020, comScore | UK August 2020.